Introduction
A career spanning all levels of management, policy development and review, clinical nursing, midwifery, health services, professional education and clinical research, has enabled Dr McDonald to pursue a primary goal of ensuring that health practice and practitioners keep pace with changing environments and community expectations of standards of care. She has spent much of her career providing an interface between people with a right to safe and effective care and the complicated worlds of policy in health, education and society.
Leadership within in higher education included active involvement with development and review of curricula for nursing and health sciences fields and the setting up of management systems to support high standards of teaching and assessment of clinical proficiency in nursing. An abiding interest in education for professional roles led Tracey to develop a critical pedagogy for building undergraduate leadership and management capacity for health professionals.
In 2011 the Australian Government Minister for Health and Ageing acknowledged Tracey's contribution to health care through an appointment to the National Lead Clinician Group set up to provide high-level strategic oversight and leadership on clinical issues, including complementing the role of other national bodies by prioritising the development and implementation of evidence-based clinical practices.
Tracey McDonald in 2012 was invested as a Member of the Order of Australia for her work in nursing, aged care, United Nations Expert Groups and the development of national and international public health and social welfare policy. More information available at https://www.pmc.gov.au/government/its-honour.
As Professor and Chair of Ageing at Australian Catholic University (ACU), North Sydney, she brought her qualifications and many years of and experience in health, education, nursing and aged care organisations. Her broad understanding of intersecting frameworks and systems has supported her work on clinical outcomes, management, national and international policy related to social and health concerns and late age. Her wisdom and skill in these areas were further endorsed through her 2011 ministerial appointment to the National Lead Clinicians Group.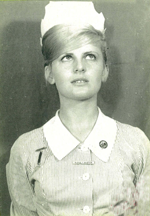 She was appointed in 2015 to the NSW Ministerial Advisory Council on Ageing which is the official advisory body to the NSW Government on matters of interest to older people. The MACA advises the Minister for Ageing on matters affecting the needs, interests and wellbeing of older people in NSW, and on the impact of the ageing of the population.
Tracey has also accepted an invitation to be part of the Randwick Municipal Council's Older Person's Advisory Committee (OPAC). Her advice is also sought by other organisations providing services to older adults.
Tracey chose not to renew her professorial contract in mid-2018 and continued working part-time as a consultant clinical gerontologist and associate editor with the International Nursing Review, the peer-reviewed journal of the International College of Nursing, Geneva, Switzerland. She remains engaged in mentoring of colleagues and students from her many professional networks and is active in scholarship, research projects and speaking at conferences. At the invitation of the National Health and Medical research council (NHMRC) she is frequently involved as an assessor of research applications for funding.